Welcome to Blockchain for Grownups. This blog has been rattling around in my mind for the past 2 years and I've finally decided to let it out. If you've ever found yourself confused or bewildered by blockchain or cryptocurrency then this blog may clear things up and add a chuckle to your day. I've been there. For the past year I've focused on educating executives about blockchain. The feedback has been extremely positive. I've found a way to connect with people and make a very complex topic understandable. That is my goal as a consultant and it's the goal of this blog. I look forward to connecting you with on this journey.
I've spent my career understanding and implementing complex technologies. In my role as a business strategist / M&A lead, and now a CIO, I help bridge the gap between C-suite executives and technologists who often don't speak the same language. Making business sense out of complex technologies is a weird job – but it pays the bills. Making sense out of blockchain is a bit like changing the tires on a moving car.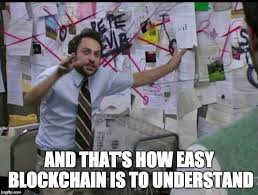 10 years ago we were introduced to blockchain with the release of the Bitcoin protocol. During this time we've seen blockchains grow from an idea into a technology that promises to solve some of the worlds most vexing problems.
This blog is not a place to get investment advice. My opinions about the evolution of crypto and blockchains will become evident – but I caution you not to rely on anything you read here to make investment decisions. There are many fine places to get that advice. What you will find here is a combination of in-depth research, commentary, and insight about how blockchains will create value. How they fulfill this role is a subject of debate. I hope this blog contributes interesting, provocative, and insightful ideas to this ongoing discussion.
If you're like me you have many questions about blockchains, where to start your journey and where this all ends. I'll begin by contributing my thoughts and some research aimed at the following – Will blockchains and digital tokens eliminate the role of middlemen and reshape our financial system? Will permissionless, pseudonymous ledgers like Bitcoin become the way we transfer value in society? I'd bet the under – but regardless of your POV, it's clear that blockchains are going to play a major role in our future. Blockchains are growing up fast. At $250 billion in market cap, cryptocurrencies remain a fringe part of the economy, but major corporations like Facebook, JP Morgan, and IBM are introducing services that could make crypto a mainstream part of the global economy. Will governments and corporations dominate the next phase of blockchain development?
Stay tuned to this blog – add your thoughts and help contribute to Blockchain for Grownups! Thanks for stopping by.
Jeff Marinstein